Burlap & Wire Basket
$310.00
Includes:
Screened and bonemeal-enriched soil backfill
Removal of waste clay
*1 year warranty
Plant purchase NOT INCLUDED
Extras
Shrub Delivery
$150.00
*Warranty conditions: Shrub must be zoned for Alberta (lower than zone 4). Warranty not valid for shrubs who's damage was caused after installation and was not caused by an inferior product or inferior installation practices at the time of install, including but not limited to insects, violent weather, rodents or other animals, or accident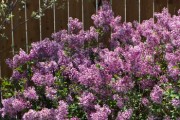 Bloomerang Lilac
Bloomerang Lilac is the newest variety of lilac that blooms in the spring and all summer long along with fragrant blooms in the fall. It is deer resistant as well as powdery mildew resistant. It grows best in well-drained soil as it cannot tolerate overly wet soil.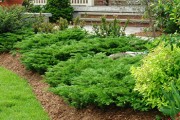 Calgary Carpet Juniper (Spreading)
This popular evergreen shrub offers delicacy to landscape with its soft green foliage. It remains green throughout winter and produces blue berries during late spring till late winter. It is a low maintenance shrub and suitable for borders, mass plantings and ground covers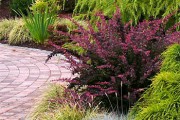 Cherry Bomb Barberry
It is a shrub with colorful accent spines that have burgundy red leaves in fall season and clusters of yellow flowers in spring along with scarlet drupes of fruits. This shrub helps deter tresspassers, requires occasional maintenance, adaptable to most growing conditions. However, standing water is not suitable for this shrub.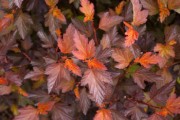 Coppertina Ninebark
Coppertina Ninebark is a compact ninebark that grows well in most conditions, well suited as accent shrub, screen and mass planting. It requires occasional maintenance. In the spring it has orange-red foliage that changes to red purple color with white flowers.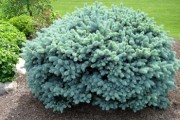 Globe Blue Spruce
It is a globe shaped, multi stemmed evergreen shrub forming dense and compact shape with maturity. It has blue foliage throughout winter with silvery blue growth in spring. It is adaptable, durable and requires low maintenance. It is perfect as accent for landscaping.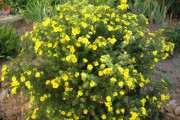 Gold Finger Potentilla
This is a low maintenance shrub best pruned in winter. It is compact round shrub with fine green ferny foliage with yellow flowers from June to winter. Not suitable for wet soil, and perfect for attracting butterflies and not liked by Deer much.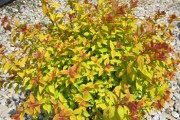 Goldflame Spirea
Goldflame Spirea requires occasional maintenance, grows better with regular watering. Versatile shrub that offers color effect, with red foliage that changes to yellow in summer, and red in fall. In the summer it has hot pink flowers, with neat tidy ball shaped form.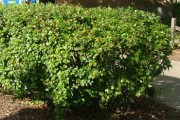 Peking Cotoneaster
Compact variety of ninebark that grows well in most conditions, perfect for accent shrub, screen and mass plantings. It requires occasional maintenance. In the spring it has orange red foliage that turns into red purple with white flowers. Its serrated leaves turn scarlet in fall.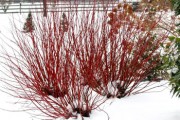 Red Osier Dogwood
Native for northern landscapes, this general purpose shrub changes colors from green leaves in spring, White flowers turning into white berries in summer and fall color foliage with red stems in fall. It is low maintenance shrub that can grow large. Great for planting single, mass or as screen and attracts birds to yard.