How to Use Stone In Your Garden for Landscaping
Inspirational stone garden galleries suggest the impossible. You can't help it but admire the work of art behind it. Rock and stone landscaping are actually the same it depends on which side if the coin you are- the source or the final product. This type of decoration is being appreciated as a modern element in landscaping.
Stone landscaping is approached with creativity and imagination to reflect in your front yard and backyard. It creates a good environment to unwind. The stones with different colors and texture are obtained from natural rocks. It can be applied to occupy an unused space or strategically combined with plants to create an attractive scenery. It is mostly used to reduce monotony in landscaping. The raw materials are easy to find making it a low-maintenance and cost-effective venture.
Adding aesthetic appeal to the garden
Stone landscaping is mostly used in pathways or to fill in spaces where nothing can thrive. It also suitable for gardens that have rocky soil profiles –does not allow plant cultivation. Use Pebbles to create multi-level gardens when a suitable edging material is used. Beds of rocks can be used to design rising stairs by creating terraces that slope all the way up; it helps to maintain a sense of spontaneity.
Have you heard about simplicity and sophistication in art? Then you should know that a simple arrangement of stones can bring serenity to the mind.  Apply rock diversity (in terms of size and type), uniformity and striking patterns to create Zen in your garden. In modern backyard or front yard landscaping, it is easy to add personality. Gravels are being used to make pavers. Perhaps you should try river rocks and succulents, the two have been used in modern landscaping to create vibrant gardens.
If well placed, stones can be used as borders or edging to emphasize and isolate garden landscapes. Provide ambient lighting along these borders using rope lights. You will have yourself a contemporary landscape that would make your neighbors jealous.  Stone decoration with pebbles and river rocks can be used for water drainage and fountains by creating a river-like structure (using marble chips) to guide rainwater down the drain. It works best in a downspout and shady areas.
You should aim to create a bright stone decoration; vary the color and nature of the stones. Complex landscapes use a variation of clear, light, dark or glassy stone nature. To create a sense of balance and artistry, the stones are artistically selected and arranged. As they create an eco-friendly environment, they also add a sculptural element to your yard.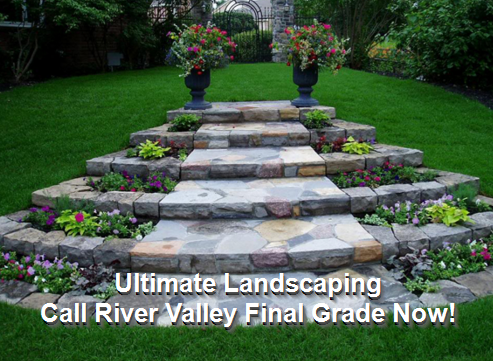 Hiring a professional landscaper to get the job done
A natural look has to be complete. You can also create a beautiful landscape by stacking up stones. Landscaping art has no measure, but there are a chosen few who are talented. Some professionals can curve and shape stones to reflect sheer work of art. Professional landscaping companies with experience are able to inform you on matching stone with a particular plant. You will be amazed to find out that height and texture play a part in stone landscaping.
Plants require drainage, with the help of professionals you can do a research on the type of stones which agree with the conditions of your plants. Art can be created by the natural elements surrounding your yard, so do not ignore the stones scattered in your compound-they only need some form of arrangement to fully define your garden. Some stones can be arranged into a flowery work of art and sprayed with gloss to retain the color.
What you need is to hire a professional landscaping company that is well established and has good reviews in the local area. They will guide you to appreciate the level of creativity and art that has been invested in stone decoration in landscaping. When you look at the available work samples and pictures, with no doubt you will be inspired and motivated to take action. Words alone cannot fully describe the ideas and creativity surrounding stone decoration.